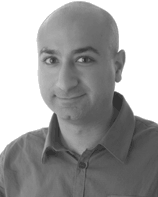 Faisal Alani
Faisal Alani is the content editor on ComputerWeekly.com . He joined Computer Weekly in October 2008 to enhance user interface and drive traffic.

Previously, he worked as online sub editor on ComputerWeekly.com's sister website FWi.com (Farmers Weekly), part of the Reed Business Information (RBI) portfolio. Prior to that he was online sub editor for XpertHR, and before that worked for Haymarket Publishing as an assistant editor having previously studied English Literature at Brunel University.

In his current role, Faisal manages the e-newsletters, video editing, photo stories and the Inspect-a-Gadget blog as well as the day-to-day on articles and their promotion.

Faisal can be found on LinkedIn and Twitter.