Will xxx.cym be more trusted than xxx.com?
Tom Brooks, who I have known for more years than either of us cares to remember, has contributed the following guest blog.
"Mr Ieuan Wyn Jones, Wales' Minister for the Economics & Transport, announced on Wednesday morning that the Welsh Assembly Government's would be seeking an internet top level domain for the Welsh linguistic and cultural community in the new round of internet expansion. "Proper Internet status for our nation will open up new marketing opportunities and help promote the Wales brand", said the Minister.

Download this free guide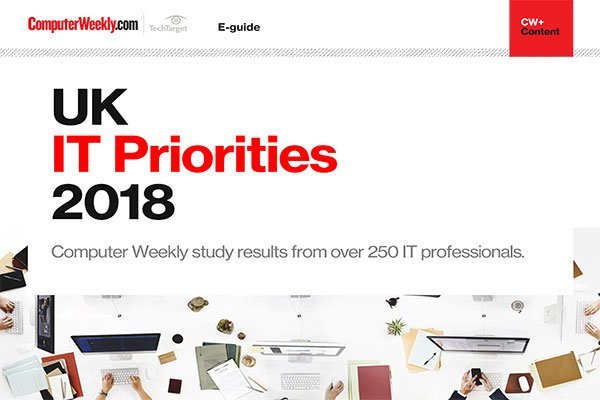 UK IT Priorities 2018 survey results
Download this e-guide to discover the results of our 2018 UK IT Priorities survey, where IT leaders shared with us what they are going to be investing in over the coming 12 months.
By submitting your personal information, you agree that TechTarget and its partners may contact you regarding relevant content, products and special offers.
You also agree that your personal information may be transferred and processed in the United States, and that you have read and agree to the Terms of Use and the Privacy Policy.
In the next 18 months, the Internet will change radically and the Welsh Assembly Government has expressed the intention to be fully on board the new Internet with a top level domain identity .cym, on a par with other economically growing communities. Wales is an impoverished community: Recent ONS statistics show that the Gross Value Added (GVA) for Wales was under 78% of the UK average. Investment in the Internet infrastructure in Wales is vital to attain an economic transformation of the Welsh economy because the Internet is amongst the most important drivers to the economy.
The Minister recognised that the Internet is the e-engine for economic growth and Wales needs top level access to deliver the innovation that it needs. Wales' lack of digital age infrastructure shows in that Wales has only one FTSE top 100 company. UK on-line shoppers spent £42 billion in 2007, although the Welsh share was somewhat low at an estimated £1.5 billion. Currently there is an economic outflow from Wales in ecommerce, with many Welsh shoppers using 'out of Wales' sites and fewer 'outside Wales' buyers purchasing from Welsh firms. That is something that Wales needs to reverse, as the Welsh Assembly Government recognises.
The internet is undertaking a new generation change. Its physical addressing structure is being enhanced by the migration from IP v4 to IP v6. The Internet Corporation for Assigned Names and Numbers (ICANN), the international "Not for Profit" organisation which controls the Internet, has commenced a formal process to expand the number of top level domain root names (TLDs) from the current 250 to at least double that number. Success for the campaign would mean that people in Wales could chose to have a Welsh internet domain address .cym as well as, or instead of, .uk, .eu, .com or .org.
In confirming the intent to apply for a TLD for Wales, Ieuan Wyn Jones fulfilled a desire that has been strongly expressed by Parliamentarians in both Cardiff and Westminster. An early day motion in the House of Commons was signed by 24 MPs of all parties. In the Welsh Assembly, the House Committee passed a vote of support by a large margin.
It is to the credit of backbench politicians that they recognised early the value and benefits to the UK that additional TLDs would bring; Paul Flynn, the MP for Newport, was an early campaigner for a Welsh TLD.
Westminster and Cardiff are also concerned about the mushrooming ecrime. An UK delegation, including several MPs will attend the Global Internet Governance Forum in Hyderabad this autumn, as they have done in the previous Internet Governance Forums in Cairo and Rio de Janeiro. With Welsh internet users spread over domain name registers in England, the USA, Europe etc., It is difficult to measure, let alone reduce the volume of ecrime perpetrated by Welsh domain name holders or where Welsh internet users are the victims.
A Welsh TLD would be managed on a new register of clearly identified internet users, to tight protocols, so that criminal activity could be detected rapidly and dealt with appropriately. Parents in Wales, for example, would know that their children were far less likely to come to any harm if their internet access was constrained to dotCYM domains, as would be possible."
Team Cymru is one of the most trusted names in the global e-security world. Can xxx.cym repeat that succcess? Can the rise of locally trusted and policed domains trump the growth of globally dominant brands? Tom raises many interesting issues and the transition to IPV6 changes many of the assumptions as to what the Internet is and can be.