DCMS & BERR to study convergence while Brussels blocks it
Just before Christmas the Secretaries for Culture and Business, James Purnell and John Hutton, announced a ThinkTank to look at convergence. In parallel we are due to implement the AVMS Directive, which wrecks the economics.

Download this free guide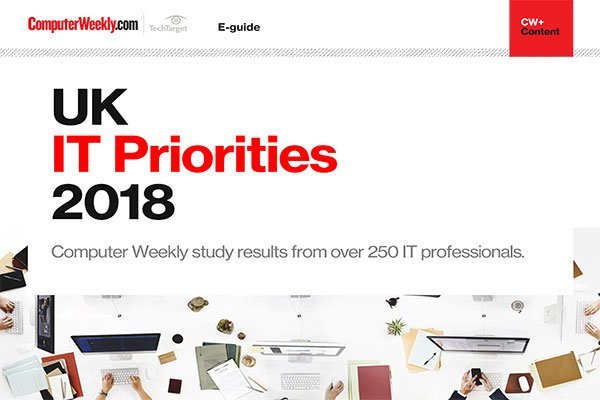 UK IT Priorities 2018 survey results
Download this e-guide to discover the results of our 2018 UK IT Priorities survey, where IT leaders shared with us what they are going to be investing in over the coming 12 months.
By submitting your personal information, you agree that TechTarget and its partners may contact you regarding relevant content, products and special offers.
You also agree that your personal information may be transferred and processed in the United States, and that you have read and agree to the Terms of Use and the Privacy Policy.

The Audio Visual Media Services Directive was designed to protect the business models of the past (especially those of national broadcasters like the BBC) from those of the future. The small print of UK implementation will determine whether competitors like ITV, let alone would-be IP/Mobile TV and entertainment operators and the UK digital content industry have a viable future.
The move to extend the TV Without Frontiers Directive to cover services delivered over the Internet brought together a unique coalition of network operators, technology suppliers and content creators who worked with and through an excellent joint team of officials in DTI and DCMS to try to emasculate an unworkable set of proposals. Slowly Britain worked from a minority of one towards a set of wrokable compromises.
I thought they had finally succeeded when the final drafts passed their Second Reading in the European Parliament in December. Then I attended the first briefing on UK implementation. This was almost entirely attended by those from the broadcast and programme making industry. The obsession of the Internet and digital content communities with technology rather than profitable business models appears set to snatch defeat from the jaws of victory
There was almost no-one present from the Internet service or digital content communities.
The battle is not yet over- and may yet be lost in the small print of implementation.
With the rise of content piracy and the movement of mass-market advertising from TV to Internet and pay per click, funding the production innovative content is becoming critically dependent on product placement. From 3 – 5 minute instalment soaps on mobile camera-phones or You-Tube to the James Bond movies, the revenues from those who supplied the car driven by the heroine and the drink consumed by the hero are becoming critical to the creation of non-amateur material.
But the directive requires member states to prohibit "product placement" unless they enact subsidiary legislation to explicitly allow it in films, sports and light entertainment programmes. They are not, however, allowed to permit it in children's programmes. They can, however, permit "prop placement", unless it is of "significant value".
Does that mean we have to enact a formal ban in UK law and then permit the exemptions in the Directive? And what do the definitions mean anyway?
The DCMS organised a very good briefing on the issues and questions shortly before Christmas and will soon start organising formal consultations. But most of those who attended that briefing had a vested interested in preserving the pre-Internet world. And the officials who handled the negotiations are due to rotate or retire.
As the global recession gathers pace and your employers have to get better value for money from their advertising spend, whether locally or globally, this supposedly esoteric and technical set of definitions and arguments will suddenly move centre stage and determine whether many of you, including those working for UK/EU-based content producers, e-commerce and Internet service operations, will still have job jn 2009.
The press release on the joint DCMS/BERR Think Tank exercise gives the membership, objectives and timetable for the initial Seminar Programme, beginning on 7th February with what convergence is and why it matters.
Sign up and speak up or be stitched up.