News
Stay informed about the latest enterprise technology news and product updates.
The Financial CRD Game - a game of two halves.
Since the original Basel Accord was agreed and signed in 1988, central governments, driven by the EU, have been trying to ensure that financial institutions were managed in such a way as to provide a solid platform to the global economy. Starting with Basel I, increasing levels of central oversight have been put in place to try and maintain a good view on what could be happening within the markets. Through the Capital Requirements Directive (CRD) first instituted in 2007, certain levels of capital are required to be held by the banks and insurance companies so that they are able to weather any economic storms that come the way of the markets.

Download this free guide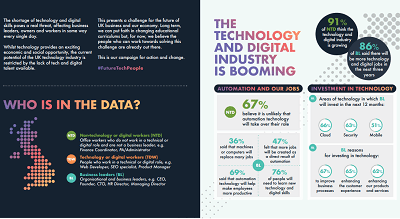 Infographic: Future-proofing UK technology
The shortage of technology and digital skills poses a real threat, affecting business leaders, owners and workers in some way every single day. Whilst technology provides an exciting economic and social opportunity, the current potential of the UK technology industry is restricted by the lack of tech and digital talent available. This presents a challenge for the future of UK business and our economy. Long term, we can put faith in changing educational curriculum but, for now, we believe the people who can work towards solving this challenge are already out there.
By submitting your personal information, you agree that TechTarget and its partners may contact you regarding relevant content, products and special offers.
You also agree that your personal information may be transferred and processed in the United States, and that you have read and agree to the Terms of Use and the Privacy Policy.
CRD IV is the latest version, and it nominally came into effect on January 1st, 2013. "Nominally" will be covered later…
At the highest level, the basis for CRD IV is covered under the Basel II and Basel III Accords for the banks and under Solvency II for insurance companies, which increase the amounts of common equity and Tier 1 Capital that the institutions are required to hold. Basel II also covers how the banks will need to provide centralised prudential reporting – and this mandates the use of the extended business reporting language, XBRL.
In October 2012, Quocirca carried out research across the UK, Germany, France, Italy and Spain for EMC to gauge the preparedness of financial institutions for the use of XBRL as well as their understanding of the whole CRD IV process.
The research provided some interesting findings – just under half of respondents felt that adopting XBRL would be a major impact on the business, with 65% saying that integrating existing systems into an XBRL system would be of major concern. Unfortunately, only 25% of respondents had even chosen an XBRL solution for something that was to be mandated as of January 1st (at the time, only 3 months away), leaving the notion of the financial markets being ready to meet the implementation date as being a bit far-fetched.
But, back to the "nominally". As the financial markets collapsed, the EU went into prevarication mode. There was always a transition period built in to CRD IV and Basel III, but this was meant to be for a move along a maturity model with everyone essentially staying in step along a defined set of processes. Although the nominal dates for CRD IV and Basel III remained as 1st January, the EU started to change the goalposts, saying that banks must hold more liquid assets and so lower their risk if facing another meltdown.
Country financial bodies, such as the Financial Services Authority (FSA) in the UK had to move to more of an advisory mode – without agreement from the centre, little in the way of solid process guidance could be provided by them.
So, although few banks and insurance companies were ready for the requirements of CRD IV and Basel III on 1st January, it makes little difference, as the central bodies concerned were still fiddling while the economy burned.
However, this is not an adequate excuse for the financial institutions concerned to be so far away from being able to meet the technical requirements of CRD IV. The need for centralised prudential reporting is still there – and the failure to plan to implement XBRL systems means that these institutions are incapable of meeting this need.
At some stage, the Powers That Be will get their act together and CRD IV will become law with the necessary Directives in place. Financial institutions would do well to ensure that they are implementing the right systems now to meet their reporting needs – without them, they will fall foul of legal requirements, which could cost dear in fines.
Quocirca's report on the subject can be downloaded for free here.