What a NHSIT year for CSC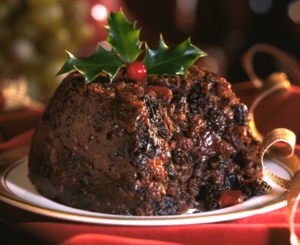 Tuesday 27 December was a good day to bury bad news. With 60m Brits digesting their Christmas Bank Holiday feasts in front of crap telly, news outlets were running skeleton crews. The most work done anywhere was by the nation's sewers, straining under the seasonal glut in excrement.

Download this free guide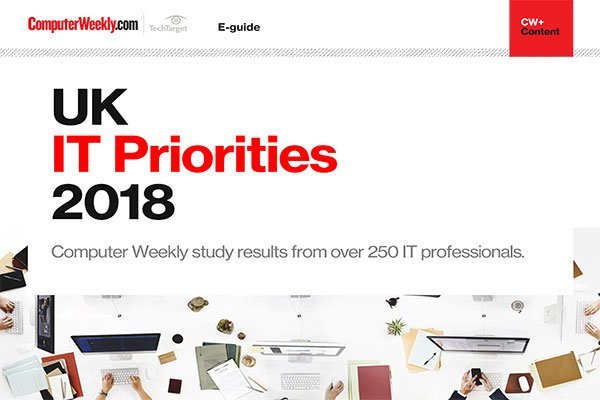 UK IT Priorities 2018 survey results
Download this e-guide to discover the results of our 2018 UK IT Priorities survey, where IT leaders shared with us what they are going to be investing in over the coming 12 months.
By submitting your personal information, you agree that TechTarget and its partners may contact you regarding relevant content, products and special offers.
You also agree that your personal information may be transferred and processed in the United States, and that you have read and agree to the Terms of Use and the Privacy Policy.
This was the day Computer Sciences Corporation let it slip that it might have to write off the entire $1.5bn it has invested in the UK NHS National Programme for IT (NHSIT), after two years of negotiations under the threat of cancellation.
Was this some fit of seasonal goodwill from the most vilified of boohisstems integrators – relinquishing its claim on money otherwise needed desperately for aunt Mabel's tit transplant?
Or was it just the latest manoeuvre in the battle for public opinion being waged over Labour's National Programme for IT?
It was of course the latter and though CSC's warning was not the defeat it appeared to be, it was a retrenchment the beleaguered company did well to keep from the limelight. Now it has cleared all its skeletons from the closet and is reportedly close to appointing a new CEO, the markets might ease their sustained punishment of its share price.
Weak resolutions
The spotlight can return now to the government, which after a year of playing shark cards on CSC has achieved nothing of its ambition to scrap the National Programme.
It hasn't scrapped the programme because it can't simply tear up its contracts. It may not want to either. It outsourced the work. CSC, its outsourcer, invested $1.5bn in it. It developed an albeit unfinished suite of next-generation health software. It wants the guaranteed return on investment the NHS deal originally promised.
Unable to cancel the contract, the Cabinet Office has been able only to stall while the political machine piles up evidence in condemnation of the programme. If public opinion turned the contract toxic, CSC would have to get rid of it; NPfIT could be scrapped.
Public relations
This seemed to be the game when in February the NHS interrupted ongoing negotiations with CSC to issue a public threat of contract termination. CSC was still missing deadlines for systems it was originally contracted to deliver in 2007. But NHS couldn't terminate the contract without facing the question of its own liability for the project's failure.
So Cabinet Office forbade NHS from signing the deal until its Major Projects Authority had reviewed the project and issued a verdict on the MOU. The evidence meanwhile stacked up against NPfIT and CSC.
Negotiations reached a preliminary conclusion in May, in the shadow of a damning National Audit Office report into NPfIT's failure and the part CSC and other suppliers had played in it. But the terms (when leaked – Public Accounts Committee hearings that month were denied details) did not look pleasant: a one sixth cut in the £3bn cost of the contract in exchange for nearly a third fewer implementations and a year added to the contract term.
The MPA was apparently not content. Within weeks NHS CIO Christine Connelly was replaced with a Cabinet Office executive. MPA delivered its review, recommending the NHS extract further concessions from CSC, effectively condemning the MOU to the shredder. But the document was classified and seen by only a limited number of ministers and civil servants. CSC carried on in the belief that the review had not yet been completed. When CSC stated this in a statutory report to shareholders on 15 June, MPA stayed schtum.
MPA stayed schtum again on 3 August when the Public Accounts Committee produced its report into NPfIT, calling for some sort of review to consider terminating the contracts.
Hogwash
The MPA also stayed schtum when on 10 August CSC said in a statutory statement to shareholders that the MOU was still waiting on the conclusion of the MPA review. It wasn't until September that the Department of Health finally admitted it had the review. It said it would consequently seek to dismantle the programme more quickly than it had been doing. But this was hogwash: it had not reached an agreement over CSC's £3bn contract.
Cabinet Office finally published a heavily redacted version of its review on 23 September, just seven days before the six-month deadline for its return of a £170m advance if the MOU hadn't been concluded. Of course the MOU hadn't been concluded. MPA had redacted its final recommendation on the MOU. It had apparently not delivered its verdict so the MOU wasn't agreed and the money had to be repaid.
CSC had egg on its face over the repayment. Its CEO announced his retirement. CSC then went back to the negotiating table. But it told shareholders on 9 November it was still waiting on MPA's recommendation on the MOU and therefore the future of its contract. Its financial results were terrible.
The stand-off had achieved something. It had crushed CSC's share price to below a goodwill threshold, contributing to a £2bn deduction in earnings. That crushed its share price further. But there was still no resolution in negotiations that had now been going on for two years.
Nothing, it seems, would make CSC fold its cards. Yet if the government settled for anything less its ICT strategy and long-standing condemnation of the National Programme would look puerile.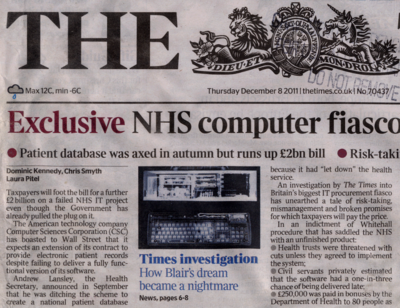 Ha rd news
That was until 8 December when the Times Newspaper stepped in with the apparently shocking results of an "exclusive" investigation: the MOU would involve CSC's contract being extended by a year and £2bn, it said.
The Times story was ridiculous. But it caught on with some help from MPs on the Public Accounts Committee. Committee chair Margaret Hodge compared CSC to "cowboys". Whatever had been going on since negotiations had resumed, CSC was on the ropes, but still clinging to its contract. The MOU terms published as findings of the "exclusive" investigation had been public since May and a matter of public record since CSC repeated them to shareholders in June.
CSC had said in the summer the MOU deal would extend the contract a year. It said it expected to realize up to £2bn in revenue in the period. It was very unlikely this meant an additional £2bn, or two-thirds increase, on the existing £3bn contract. A £500m reduction was part of that same deal. It more likely meant that would be the period when CSC would realize the bulk of its income on the entire contract. It's payments had always been contingent on delivery. It might have won a quid-pro-quo extension for a cut in the cost of the contract, but MPA hard-nuts had not dragged negotiations out for another year only to hand CSC another £2bn.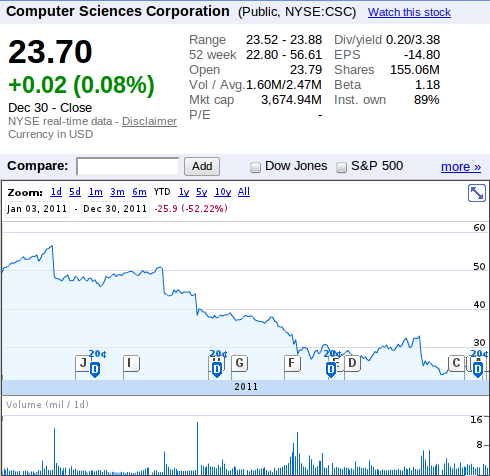 Winter harvest
CSC's share price held out till a scheduled dividend payout on 20 December. It then took a dive. Ratings agencies started downgrading CSC. Phrases like "junk status" started flying around. A week later CSC said the MPA had rejected the MOU. So the Cabinet Office had finally delivered the verdict it had published internally in June and redacted in September.
CSC said the MOU talks would resume in January. But with nothing having been achieved in 2011, it had to face the possibility that it would not never recover the £1.5bn it had invested in NPfIT to date. Talks were clearly getting nowhere even now they were entering their third year.
So Cabinet Office goes back to square one after a year of public buffoonery and fruitless backroom scheming. It's ICT strategy is starting to look ridiculous. Neither the Department for Health, the Cabinet Office nor CSC will answer even the simplest of questions about the situation, such as when MPA actually delivered its verdict to CSC.
The only reason anyone knows anything about the talks is because CSC is required by law to tell its shareholders. They enjoy a greater right to know what about what the government is really doing with the National Programme than British citizens and tax payers.
Margaret Hodge may have been right. But the government's failure to produce a CSC deal that will allow it to conduct its planned "dismantling" of the National Programme and deliver redress for its failure makes it begin to look like it lacks the moral as well as contractual rectitude, no matter how bad a deal it thinks the NHS got in 2003.