News
Stay informed about the latest enterprise technology news and product updates.
Will G-Cloud change or decimate IT profession in public sector?
As the Government cloud computing platform (G-Cloud) comes closer to a reality, IT professionals in the public sector must be considering how it will impact them.

Download this free guide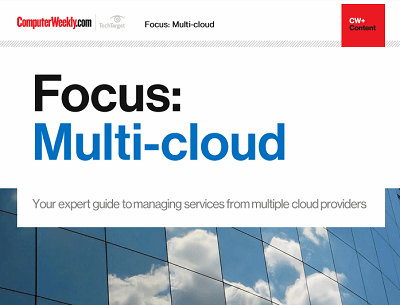 The maturity of the enterprise public cloud
Many IT leaders are increasingly coming round to the idea that sourcing services from one or more providers might be the best way to go. Join us as Computer Weekly takes a closer look at the multi-cloud approach and what providers are doing to capitalise on the trend.
By submitting your personal information, you agree that TechTarget and its partners may contact you regarding relevant content, products and special offers.
You also agree that your personal information may be transferred and processed in the United States, and that you have read and agree to the Terms of Use and the Privacy Policy.
But it doesn't have to be doom and gloom. There might be better jobs available as a result of the G-Cloud. Well that's what one supplier thinks.
Global Crossing is involved in a pilot of the Public Services Network, which will be the network infrastructure underpinning G-cloud. Mike Thomas public sector consultant at Global Crossing says the company anticipates it will be able to deliver services outside the pilot project by September.
He says the role of IT professionals will move from fixing and maintaining services to one of consulting with users as to the services required to fulfil business requirements.
I thought I would put this out and get the views of the IT profession.
Somebody said something similar to me recently. It was the COO of a company called Bluesource. This supplier takes over the running of email infrastructures for companies.
The COO told me by doing this companies can switch underutilised administrators to more challenging and rewarding roles. He said since the company has been selling this idea to IT heads sales have increased.
Is this just a way that suppliers are softening the blow for inevitable redundancies or is there something in it?
I also recently blogged about the type of job opportunities being created, for IT professionals, by cloud computing.
See this link for cloud computing jobs being advertised on CWjobs.