News
Stay informed about the latest enterprise technology news and product updates.
Public sector cuts could lead to "golden age of outsourcing"
Interesting take on the government cuts in the Guardian. Seymour Pierce analyst Caroline de La Soujeole says government cuts might only hurt outsourced service providers in the short term. In the long term it will mean more public services being outsourced.

Download this free guide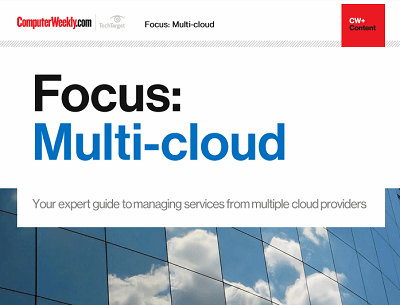 The maturity of the enterprise public cloud
Many IT leaders are increasingly coming round to the idea that sourcing services from one or more providers might be the best way to go. Join us as Computer Weekly takes a closer look at the multi-cloud approach and what providers are doing to capitalise on the trend.
By submitting your personal information, you agree that TechTarget and its partners may contact you regarding relevant content, products and special offers.
You also agree that your personal information may be transferred and processed in the United States, and that you have read and agree to the Terms of Use and the Privacy Policy.
She says a "golden age of outsourcing awaits" as the government turns to the private sector to get more bang for its buck.
She says 14% by value – some £80bn – of public sector services are outsourced but she thinks that could exceed £140bn by 2015.
The report goes on to say that public sector service providers such as Capita, serco and Compass have been hit by the news of government cuts with share prices dropping.
Here is another take on the cuts from one of the suppliers affected.
Gary Bettis, president at Compass Management Consulting, says that rather than just cut contracts the government should learn more about IT costs.
"Rather than coming up with blanket figures like the £1m contract limit, there is greater potential for savings if the public sector understands what is driving its IT costs.
It is equally possible for the public sector to be paying too much for a £1bn contract and for lots of £1m contracts. You can have inefficient contracts both large and small.
Analysis of public sector IT provision and comparisons with the wider market show that the public sector is typically paying 40% more than the market rate for IT services. This poor performance reflects a combination of questionable procurement practices and inadequate management of the demands on the service provider (for extra services and customisation, for example) which drive up costs.
It is only by transforming both sides of the deal – for example, demand management as well as a standard service framework – that the large savings we need will be achieved."