News
Stay informed about the latest enterprise technology news and product updates.
Outsourcing sector recruitment will increase when government wields the axe
The outsourcing sector could be an opportunity for IT professionals as public sector jobs look set to go as part of the spending cuts.
According to the latest research by PricewaterhouseCoopers almost a million jobs will be lost by government public sector spending cuts. But the company says there will be jobs created in the outsourcing sector.

Download this free guide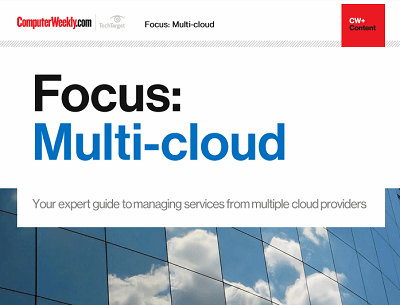 The maturity of the enterprise public cloud
Many IT leaders are increasingly coming round to the idea that sourcing services from one or more providers might be the best way to go. Join us as Computer Weekly takes a closer look at the multi-cloud approach and what providers are doing to capitalise on the trend.
By submitting your personal information, you agree that TechTarget and its partners may contact you regarding relevant content, products and special offers.
You also agree that your personal information may be transferred and processed in the United States, and that you have read and agree to the Terms of Use and the Privacy Policy.
"A sector likely to see growth opportunities from spending cuts is outsourcing, and not only in back office services. Government and public sector organisations will look to reduce their non-core and fixed cost operations by increasing the use of private and voluntary sector organisations for the delivery of front-line services."
We have already seen some movement in that direction. Ruth Ormsby, a leading light of the NHS Shared Business Service, is joining Capgemini as Public sector BPO head. This is a high level switch aimed to help Capgemini's shared services in the public sector push.
We also saw workers at Cleveland Police transfer to Steria to work in its shared services centre targeted at police forces.
But will there be opportunities for public sector IT experts as the government outsources more roles? Or will there just be an initial opportunity, which will disappear quickly as suppliers reach their recruitment targets quickly?
And if the public sector roles are transferred to the private sector how long will it before they are offshored to lower cost locations?
Back to PWC's point about outsourcing increasing Martyn Hart, chairman of the National Outsourcing Association (NOA), agrees.
He says it is not just about cost but actually involves gaining access to skills in the private sector that can help make huge transformational projects work.
"There are a number of reasons why outsourcing has been primed as one of the sectors to benefit from the public sector cuts, and although it's true that we could see new jobs created in the private sector, it's important to recognise that not all of them are linked to cost. For example, it's worth remembering that by outsourcing services, the public sector will be able to call on much greater resources. Organisations in the private sector are structured to be able to deliver some of the larger supply chain requests necessary when dealing with a large, national contract, and can turn them around quickly and easily."
He also warned the public sector over outsourcing just to save money. "Perhaps the biggest danger is that public sector departments could look to outsource cheaply, at the cost of improved service. After all, it's clear that any project initiated on cost alone, is more likely to end in failure. If performed correctly, however, and for the right reasons, it's clear that outsourcing can achieve real results for the public sector, and provide lasting employment for private sector workers – not just as a short-term solution."