News
Stay informed about the latest enterprise technology news and product updates.
NHS IT project is dead, but why do large IT projects fail? Part 23
Following the news that the NHS National Project for IT was dropped I have been posting some of the views I have recently had provided to me for an unrelated feature I was working on about why large IT projects are prone to fail.

Download this free guide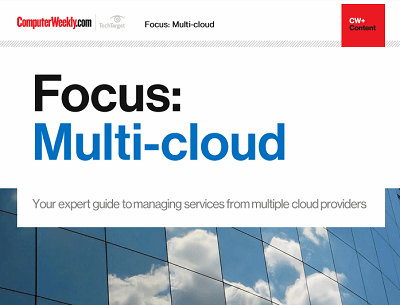 The maturity of the enterprise public cloud
Many IT leaders are increasingly coming round to the idea that sourcing services from one or more providers might be the best way to go. Join us as Computer Weekly takes a closer look at the multi-cloud approach and what providers are doing to capitalise on the trend.
By submitting your personal information, you agree that TechTarget and its partners may contact you regarding relevant content, products and special offers.
You also agree that your personal information may be transferred and processed in the United States, and that you have read and agree to the Terms of Use and the Privacy Policy.
Because I have had such a good response I am keeping the debate going on the blog.
Here are the posts already published: Part 1 Brian Randell, part 2 Anthony Finkelstein, part 3 Yann L'Huillier, part 4 James Martin, part 5 Philip Virgo , part 6 Tony Collins, part 7 ILan Oshri, part 8, Robert Morgan part 9 Sam Kingston, part 10 Peter Brudenal, part 11 Mark Lewis, part 12 John Worthy, part 13 Stuart Drew, part 14 Milan Gupta, part 15 from a reader known as Matt, part 16 Fotis Karonis, part 17 Fergus Cloughley, part 18 Steve Haines, part 19 David Holling, part 20 Bryan Cruickshank, part 21 Rob Lee and part 22 Tony Prestedge
Today, in part 23, BG Srinivas, director at Indian service provider Infosys gives us his views.
He says: "The success of IT projects rarely depends on one single individual, action or technology. Rather, success is dependent on different components converging and working harmoniously until the task is complete. IT projects fail when different parts of the same project do not work in unison. Like a pyramid of cards, each stage relies on the one before and if one aspect is ineffective -the pack will fall.
Project failure also occurs when there is a perfect blend of bad decisions. It is easy to point the finger at mismanagement of budgets, but more often than not; a lack of understanding of real business needs can be blamed. If, during the course of an implementation, the original business requirements are not communicated effectively, projects can easily derail. Similarly, if programmes are not broken into aggregate stages, the momentum for change initiated by the project is likely to falter.
Enterprises must select technologies that are relevant to their business and choose the right partner to help make the right IT decisions. Likewise, experienced partners often play an essential role in designing, validating and ensuring there is robust execution and strong programme management of projects, which are vital to achieving success."