News
Stay informed about the latest enterprise technology news and product updates.
It is not illegal for government departments to talk to IT suppliers, but be careful what you say
At the recent The Crown and suppliers: A new way of working, procurement conference, which saw the government explain its new way of working with suppliers, the key message seemed to be that public sector bodies should talk to suppliers more before they put tenders out.

Download this free guide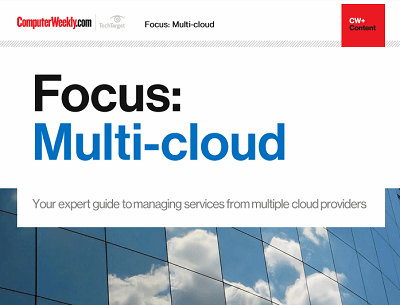 The maturity of the enterprise public cloud
Many IT leaders are increasingly coming round to the idea that sourcing services from one or more providers might be the best way to go. Join us as Computer Weekly takes a closer look at the multi-cloud approach and what providers are doing to capitalise on the trend.
By submitting your personal information, you agree that TechTarget and its partners may contact you regarding relevant content, products and special offers.
You also agree that your personal information may be transferred and processed in the United States, and that you have read and agree to the Terms of Use and the Privacy Policy.
It seems that some public sector bodies were afraid of doing this for fear of breaking EU procurement rules, and the law in the process.
But, speaking at the event, Francis Maude was clear in his view that talking to suppliers before a tender goes out is not against the rules. In fact by not speaking to suppliers before tendering the public sector is not getting the most out of suppliers.
"We need to bust a myth. It is not illegal for public sector procurement to talk to suppliers," said Maude. By talking to suppliers public sector organisations can get a feel for the capabilities of suppliers and even see their road-maps. This will help them devise their own IT road-maps and better understand what they actually want.
But care must be taken when talking to suppliers.
I had a conversation with a specialist procurement lawyer to find out just what can be discussed before a tender is put out.
Ohad Graber-Soudry, procurement lawyer at Squire Sanders Hammonds told me the following:
"You can talk to suppliers but there are restrictions so you have to be careful."
"If you know you are going to publish a contract notice and you have specific information there is a risk if you provide it before pushing the notice out that it will give the supplier an advantage."
"If you just inform the market of your intentions or do a market survey to find out what people are willing to do it is usually allowed."
"You are also allowed to discuss with suppliers to get ideas how to draw up technical specifications and put together complex contracts, including IT."
"It is useful because sometimes organisations are not in step with what is available in the market."
"But you must be careful not to discuss specifics that could give a supplier an advantage."