Computer Weekly welcomes APAC CIO Advisory Panel
At Computer Weekly, we strive to provide in-depth coverage of issues, challenges and trends facing today's IT leaders through original, independent and targeted content.

Download this free guide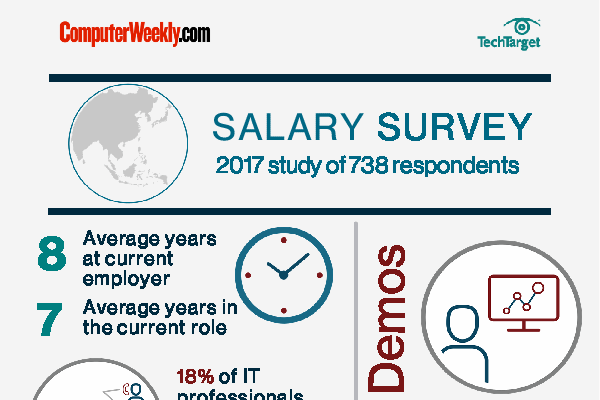 Infographic: This year's top IT salary trends in ASEAN
We surveyed 738 IT professionals in ASEAN to get snapshot of salaries and identify key trends in training and diversity. Download this infographic to find out the results.
By submitting your personal information, you agree that TechTarget and its partners may contact you regarding relevant content, products and special offers.
You also agree that your personal information may be transferred and processed in the United States, and that you have read and agree to the Terms of Use and the Privacy Policy.
To ensure that our stories meet the needs of our readers in the APAC region, we've formed our inaugural APAC CIO Advisory Panel, an independent body tasked with providing strategic advice to our editorial team.
Please join me in welcoming the founding members of the panel comprising senior executives across leading organisations across the region.
Eugene Yeo, Group CIO, MyRepublic
Eugene is group chief information officer at MyRepublic. His primary focus is on driving customer centricity and operational efficiencies across regional operations of the company, through the use of innovative technology and efficient business processes.
Combining his experience in enterprise software development with a deep understanding of ISP operations, he leads the development of customer-centric, agile OSS/BSS platforms and operational processes that allowed for the stratospheric growth of the company across the Asia-Pacific region.
He is a regular keynote speaker at TM Forum events globally, and sits on the advisory panel of various startups and educational institutions across the region.
Dr Kwong Yuk Wah, CIO, NTUC
Yuk Wah is the chief information officer of Singapore's National Trades Union Congress (NTUC). She is also the chief data protection officer of NTUC, its affiliated unions, as well as the Ong Teng Cheong Labour Leadership Institute.
Under her leadership, NTUC was a winner of the National Infocomm Awards (NIA) 2014 for the most innovative use of infocomm technology in the private sector. She was awarded the ASEAN CIO Award 2015.
Yuk Wah had also worked in Singapore's public sector where she started her career at the National Computer Board, and held various management positions at the Infocomm Development Authority. She was also vice president of planning at Singapore Airlines.
Lee Kee Siang, CIO, National Library Board
Kee Siang is the chief information officer and director for resource discovery and management at Singapore's National Library Board (NLB).
As the CIO of NLB, he provides leadership in formulating IT strategies and work plans to transform NLB's service capabilities. He also sets direction for the design and implementation of organisation-wide IT policies and standards to ensure alignment of service outcomes, strategies and resources at all levels.
Kee Siang is also a member of the Technology Advisory Committee of the Casino Regulatory Authority of Singapore, NHB Digital Resource Panel and Honorary Auditor of the IT Management Association.
Manik Narayan Saha, CIO, SAP Asia Pacific and Japan (APJ)
Based in Singapore, Manik leads a global multinational and multicultural IT organisation. As part of the senior leadership team in APJ, he is responsible for SAP's internal IT services to 28,000+ staff in the region.
With 19 years of experience and expertise in technology, Manik is a prominent keynote speaker at events, and provides thought leadership on a wide range of topics ranging from IT Strategy, artificial Intelligence, digitalising operations, process excellence and enterprise innovation.
Manik is a member of the INSEAD Alumni Network and a Regional Ambassador of the INSEAD Directors Network for Singapore. He was also the founding fellow and is currently serves as a vice-president for Ideation Edge Asia, a non-profit organisation.
Nigel Lim, Regional IT Manager
Nigel is regional IT manager (Asia & Oceania) at one of Japan's largest trading companies. His division is responsible for managing the regional portfolio of IT programmes and projects as well as governance and compliance. He is also leads the company's consulting practice.
In previous roles, he has been accountable for various portfolios of IT including service delivery, application support, infrastructure operations and compliance.
Nigel is a Chartered Fellow of the Chartered Management Institute, UK, and has more than a decade of experience managing IT. An energetic visionary, he is passionate about organisational excellence and delivering sustainable value.