What is This?

What is This? Close

What is This?

Sponsored Content is a special advertising section provided by IT vendors. It features educational content and interactive media aligned to the topics of this Web site.

Next CW500 Club event

26th Mar

Speakers:
Bryan Glick, Editor-in-Chief, Computer Weekly


Adam Raeburn-James, Senior vice president, IT End-user & Infrastructure Services, GlaxoSmithKline

Digital Magazine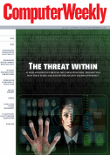 Download the latest digital edition of Computer Weekly each week. 
You'll find the latest news, guides, opinion and tips to help IT professionals succeed.